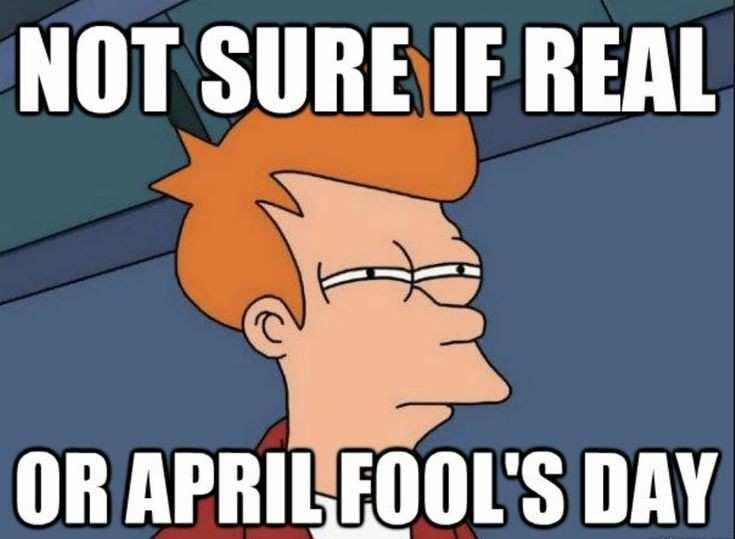 Listen below with the audio player or Click Here for complete show notes and video from the show.
Podcast: Download
Feedback
What is the best quote you have ever heard and try to live by?
On This Day In History for April 1, 2020
This is the 92nd day of the year in the Gregorian calendar. There are 274 days remaining in 2020.
It was on this date in 33, that According to one historian's account, Jesus Christ's Last Supper was held..

April 1, 1826, Samuel Morey received a patent for a compressionless "Gas or Vapor Engine".

It was on this date in 1854, that Charles Dickens' novel Hard Times began serialisation in his magazine Household Words.

That same date in 1891, The Wrigley Company was founded in Chicago, Illinois.

It was on this date in 1954, that United States President Dwight D. Eisenhower authorized the creation of the United States Air Force Academy in Colorado.

60 years ago today, The TIROS-1 satellite transmitted the first television picture from space.

Also on April 1, 1969, The Hawker Siddeley Harrier, the first operational fighter aircraft with Vertical/Short Takeoff and Landing capabilities, entered service with the Royal Air Force.

It was on this date in 1970, that The first of over 670,000 AMC Gremlins were released into North America to compete with foreign imported cars.

Also on April 1, 1970, President Richard Nixon signed the Public Health Cigarette Smoking Act into law, requiring the Surgeon General's warnings on tobacco products and banning cigarette advertising on television and radio in the United States, effective 1 January 1971.

On April 1, 1976, Apple Inc. was formed by Steve Jobs, Steve Wozniak, and Ronald Wayne in Cupertino, California, USA.

It was also this date in 1997 that Comet Hale-Bopp is seen passing at perihelion.

It was 16 years ago today, that Google announces Gmail to the public.
Happy birthday goes out on this date to:
Danish mathematician and academic, Georg Mohr, born on this date in 1640.

Born April 1, 1776, French mathematician, physicist, and philosopher Sophie Germain.

Austrian-German chemist and academic, Nobel Prize laureate, Richard Adolf Zsigmondy, born on this date in 1865.

Born April 1, 1874, English mathematician and theologian Ernest Barnes.

American actor, director, and screenwriter, Lon Chaney, born on this date in 1883.

Sheila May Edmonds, British mathematician was born on that same date in 1916.

Born April 1, 1930, American actress and singer Grace Lee Whitney.

Scottish-Irish American actress, singer, and dancer, Debbie Reynolds, born on this date in 1932.

Algerian-French physicist and academic, Nobel Prize laureate, Claude Cohen-Tannoudji is 87 today.

Also turning 84 today is Indian-Pakistani physicist, chemist, and engineer Abdul Qadeer Khan.

French mathematician and academic, Alain Connes, born on this date in 1947.

American aerospace engineer, Aprille Ericsson-Jackson is 57 today.
And that's the way it was, on this day in history for April 1, 2020
Listener Birthdays
04 – Brian K – My Blog

04 – Joel McLaughlin (aka Gorkon)

05 – Chad Davis, Jon Issler (hsteckylf)

05 – Griffin Sylvester (Ildreancipher)

05 – Martine Tysmans –

citytrips, travelling, jokes… (in Dutch)

05 – Ringmaster Greg from

Dancing With Elephants

06 – Trevor Litecky (future Geek)

07 – P.C. Haring

If you want to get on the Technorama Birthday Calendar, visit our

Wiki

.
News
Shout out to the chat room
Watch us live every Sunday night at 9:30PM ET on Facebook. Go to Join our page and get notified automatically. Join us on the live chat!
Remember When
Thank you Patrons!
This show is brought to you by… YOU! Thank you to our Patrons who enable us to keep the show running and bring you special episodes.
| | | | |
| --- | --- | --- | --- |
| Kyle Nishioka | Avner Braverman | Ben Vaughan | Mike Wills |
| | Nightgig Studios | Gary Lindros | John Clifford |
| Leon | John Noble | Chris MC | Alexis Duran |
| Saturday Morning Media | Steve Therrien | Jorge Schrauwen | |
| Amber Elstad | Harold McKinstry | Amy Bowen | Denise Inglis |
| Stephen Wesche | Dean Jenson | DanDMan Coyer | Encaf1 |
| | Kristina | Brian Brown | |
If you want to become a patron, visit our Patreon Page. We've got various levels of donations and in return we have various patron packages including a special "after show" we record just for the patrons! patreon.com/technoramapodcast 
Media Corner
Geek Library
Question of the week:
What doesn't exist anymore but should?
End of Show Stuff
We appreciate your support. If you like the show, there are many ways to show your love:
Visit our

Amazon page

for recommended books, toys, and other fun stuff!

Call the Listener Line: 707-530-CHAT(2428)
Email at technorama@chuckchat.com

We are on the Social Interwebs…
You can help support us:

How about a donation to the tip jar: one time or monthly micropayment on

Patreon

!

Links to the articles and items referenced in the show can be found on our website
Also Thanks to
Everyone who sent us links during the week

Those who joined us to watch live on Facebook!

You, for downloading and listening
Tell a friend about Technorama and…
binary high five