By Chuck Tomasi on January 9th, 2010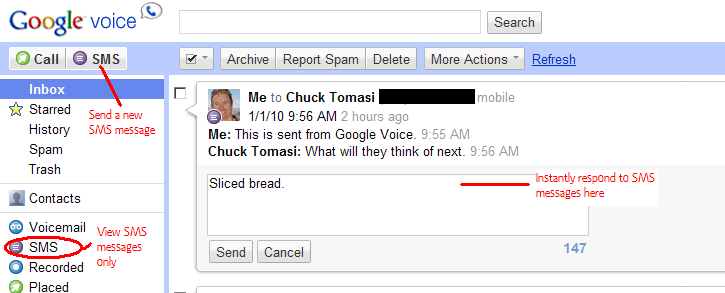 This show is sponsored by Citrix GotoAssist Express. Try it free for 30 days
Welcome to part 2 of our 3 part series on texting from Gmail and Google applications. If you haven't listened to part 1, you can download it from iTunes or listen directly from the Gmail Podcast blog at chuckchat.com.
In part 1 I showed you how to send free text messages from Gmail chat. Another way is to use Google Voice. Google Voice has several features that make it attractive, including:
• Publish a single phone number and have it ring your home, work, and mobile phone or any combination based on the caller.
• Free voice mail with personalized greetings
• Voice mail automatically converted to text and emailed to you with both the audio file and translated text attached
• Listen to, or read, your voice mail on your computer or mobile phone
• Free text messaging
Begin by signing in to Google Voice using your Gmail account at voice.google.com. At the top, just under the logo, click the SMS button. Begin typing the name of the contact or their phone number. Make sure you have mobile phone numbers associated with the contacts you intend to send text messages. Unlike the Gmail Chat feature, it will not prompt you for the contact if you enter only the number. Similarly, if you enter a name that has no mobile phone number associated in your contacts list, you cannot send a message.
After you have entered a phone number or contact, type your message and press send. It's that simple. Managing your Google Voice conversations from the web interface is very similar to Gmail. Responses will show up in your Inbox or you can look at just SMS messages and filter out voice mail by clicking the SMS link on the left. You can reply by typing in the text area just under the conversation and click Send.
Currently, Google Voice is free and open by invitation only. Contact me if you are interested in trying it out.
Podcast: Play in new window | Download