Posts Tagged 'voice'
By Chuck Tomasi on May 14th, 2011
In this post I cover several of my favorite and most useful add-on features to standard Gmail that keep me productive and organized.
For those of you who are new to Gmail or perhaps haven't explored the labs features, here's a little background. Gmail has a collection of features they like to test out. They think they are useful or fun, but don't put them in the main product unless they've proven that they are widely adopted by the public. The features or functionality of labs features can change at any time without notice. The name "labs" comes from the fact that they are still in the proverbial research and development lab.
You can get to the Labs features two ways. The first is to use the gear icon in the upper right corner of your Gmail screen next to your name and select Labs. The other way is to choose Mail Settings from the same gear icon, and select the Labs tab on the mail settings screen. Both menu options get you to the same place.
Once on the settings screen, use the radio buttons next to any of the labs features to enable (or disable) them as you wish. As of this podcast release, there are 56 labs features. I have well over 30 enabled at the moment, but have tried them all at one point or another (including some that have gone in to the mainstream product.) In no particular order, here is my top five list and why.
While there are a lot of labs features, these are just a few that I find most useful. I'd love to hear which ones you find useful or entertaining.
One final note, all of these labs features are designed to work with a desktop browser. I have not done extensive testing on a mobile browser such as an iOS or Android device.
Podcast: Play in new window | Download
Tags: background, filters, labels, Labs, Security, undo send, voice

By Chuck Tomasi on August 27th, 2010
Try GotoAssist free for 30 days
Make Voice Calls
Good news for Gmail users. Gmail has enabled voice calling from within Gmail. Now you can use your computer's microphone and speakers (or a USB headset if you like) to make outgoing calls for free in U.S. or Canada and very inexpensive calls many other countries.
To see if you have this feature yet, just look on the left side of your screen under chat and look for the option "Call Phone". Just click on it and enter a contact's name or start dialing. The other person does not need to have a Gmail account to make this work. You can call mobile phones or land lines. If you happen to have a Google Voice account associated with your Gmail account, the receiving party will see the incoming call with your Google voice number. If you choose, incoming calls to your Google Voice number can be received right from within Gmail. Now I'm really glad I put that Google Voice number on my latest business cards!
FYI – you will need to install the voice and video chat plugin which you can get at gmail.com/videochat.
Other Internet telephony providers have typically charged for outgoing phone calls. Companies like Skype are extremely inexpensive, but free trumps cheap any day for me.
So far, I have only received one call from someone using Gmail. A couple nights ago I received a call on my mobile phone from my friend Kreg in South Carolina who couldn't resist testing it out before me. The call quality was about the same as typical mobile phone, with the notable exception of any dropouts hiccups or other artifacts typically associated with mobile calls. It wasn't quite as good as our Skype to Skype calls, but to call computer to phone for free, I'd say it warrants more usage. Based on initial reports of 1,000,000 calls in the first 24 hours, I'd say it's off to a good start.
Google reports that all US Gmail accounts have the new feature enabled and they will be rolling it out to other countries soon.
Recurring Event Update
If you haven't done so recently, take a look at the details of a Google Calendar event. There are now two tabs: one for the event details and one to help you find a time with another Google invitee. They also cleaned up the recurring appointment functionality. When you click on the "repeat" checkbox just under the event title, a new window appears with the details of the event. It is now much easier to create a recurring event, although I still don't see a "Last" feature for my meeting that happens on the last Wednesday of the month.
Double Sent Mail Bug Fixed
Finally, there were some reports of some Gmail messages being re-sent automatically that affected hundreds of users. Google Employee "Mr Evan" reports that the issue has now been resolved. While this wasn't a widespread problem, it certainly was annoying when a Gmail user sent a message only to get a response back saying "I already got your message." If you were affected, rest assured that this bug is resolved.
Podcast: Play in new window | Download
By Chuck Tomasi on January 9th, 2010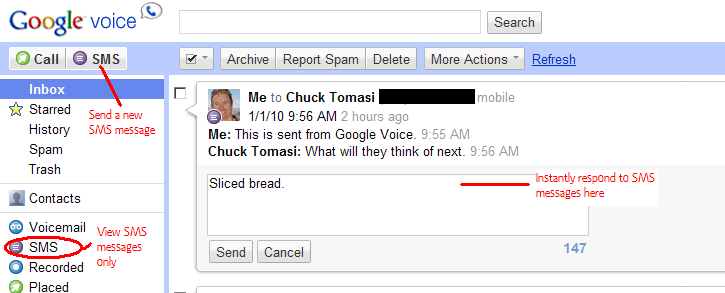 This show is sponsored by Citrix GotoAssist Express. Try it free for 30 days
Welcome to part 2 of our 3 part series on texting from Gmail and Google applications. If you haven't listened to part 1, you can download it from iTunes or listen directly from the Gmail Podcast blog at chuckchat.com.
In part 1 I showed you how to send free text messages from Gmail chat. Another way is to use Google Voice. Google Voice has several features that make it attractive, including:
• Publish a single phone number and have it ring your home, work, and mobile phone or any combination based on the caller.
• Free voice mail with personalized greetings
• Voice mail automatically converted to text and emailed to you with both the audio file and translated text attached
• Listen to, or read, your voice mail on your computer or mobile phone
• Free text messaging
Begin by signing in to Google Voice using your Gmail account at voice.google.com. At the top, just under the logo, click the SMS button. Begin typing the name of the contact or their phone number. Make sure you have mobile phone numbers associated with the contacts you intend to send text messages. Unlike the Gmail Chat feature, it will not prompt you for the contact if you enter only the number. Similarly, if you enter a name that has no mobile phone number associated in your contacts list, you cannot send a message.
After you have entered a phone number or contact, type your message and press send. It's that simple. Managing your Google Voice conversations from the web interface is very similar to Gmail. Responses will show up in your Inbox or you can look at just SMS messages and filter out voice mail by clicking the SMS link on the left. You can reply by typing in the text area just under the conversation and click Send.
Currently, Google Voice is free and open by invitation only. Contact me if you are interested in trying it out.
Podcast: Play in new window | Download