Posts Tagged 'Mobile'
By Chuck Tomasi on August 18th, 2011
Just a short one today… Some of you may already know this. If you use Gmail from the web browser on your iPad, iPhone, Android, or other mobile device, you might find it a bit annoying to label your messages. When reading a message, use the drop down chevrons on the upper right, select Label, and you are presented with a list of all your labels. Until recently, I would scroll to the label I wanted, check the checkbox, then have to scroll back up to the Apply button.
One day I was doing this and for some reason missed the checkbox and just clicked the word "Finance" and it put the label on and went back to the message – much faster than scrolling back up and clicking Apply! Of course, if you want to apply more than one label, you will need to scroll, tick the appropriate checkboxes, and click Apply, but for just one, tap the label text for a quicker experience.
Podcast: Play in new window | Download
By Chuck Tomasi on April 4th, 2010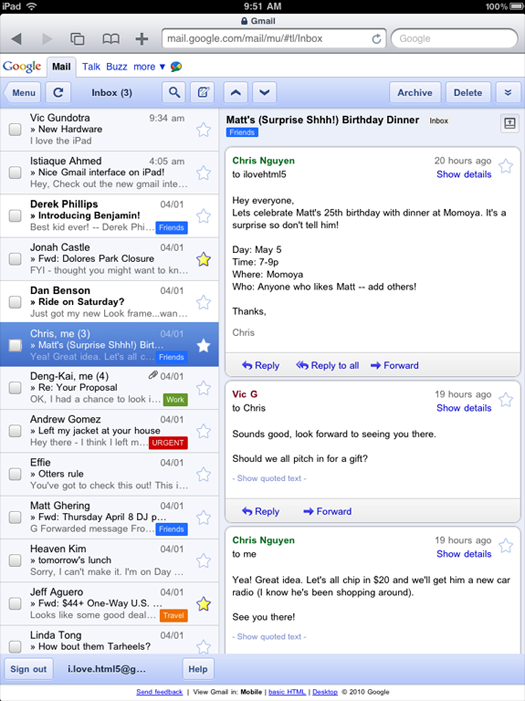 Although I don't have an iPad (yet), I find the Gmail mobile app for the Apple iPad compelling. This two column interface resembles the preview pane of Microsoft Outlook (which I use all the time.) It makes me wonder if the standard web browser interface will have this option soon or if it is better suited for the larger touchscreen UI only.
Tags: apple, ipad, Mobile, touchscreen