Posts Tagged 'login'
By Chuck Tomasi on January 24th, 2010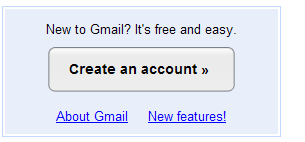 This episode is sponsored by GotoAssist Express. Try it free for 30 days.
This is the first epside in a series to help you get started with Gmail. In this episode I walk you through the steps necessary to create a Gmail account. This specific show is intended for people who are absolutely new to Gmail. If you already have an account, you can likely skip on to the next show where I'll go in to more details of configuring and customizing your account.
Perhaps you've heard of Gmail and are curious to try it out or maybe you're fed up with your limited storage and spam collecting on another mail service and decided that it's time to take the plunge in to the world of Gmail. I'll guide you step by step from the first URL to that beautiful list of messages.
Begin by pointing your web browser to https://mail.google.com
Next, click on Create an Account (see the image on the left)
A form appears. Let's go through the fields together. (see Figure 1)

Provide your First Name, Last Name, and desired login name. The desired login name is what you wish to login with, not necessarily what you WILL login with. You need to see if someone else already has that Gmail login.
Click Check Availability button to see if the name is available
If it is not available, choose another name

Try adding your middle initial, or a significant number at the end

If there are no conflicts, a message will appear letting you know the login is available.
Next, choose a password

Use a combination of upper case, lower case, numbers and symbols for best security
Use the Password strength indicator to know if you have a strong password or not

Re-enter your password to ensure you entered it properly
Leave Stay Signed In and Enable Web History checked for now
Web History is a feature that will provide you with a more personalized experience on Google that includes more relevant search results and recommendations. By creating a Google Account, you will enable Web History unless you turn this off. Learn More
If you want Google to be your browser's default home page, check the option labeled Default Home Page. Since I already have a default homepage, I unchecked this one.
If you loose or forget your password, Gmail can ask you a security question and you reply with the proper answer. Select a security question from the list or choose Write my own question and fill in a question.
Then, Provide an answer for the security question in the space provided.
Provide a recovery email address where the question can be sent if you get in to a situation where you need to recover your password.
Indicate your location so Gmail can set your default language and other settings
A little further down the form, a graphic with wavy letters is displayed. Enter the letters in the word verification graphic. This is done to ensure that a real person, and not another computer, is filling out the form
Read the terms of service
And finally, If you agree to the terms of service, click I accept, create my account

If everything worked, you see a Congratulations screen (see Figure 2). Click the Show me my Account button.
You will also receive an email sent to the recovery address you entered earlier. Save this. It has a verification code that you can use if you ever have problems or loose your password.
Your Gmail account is now ready to use. (see Figure 3) You can go to https://mail.google.com on any web browser, enter your login name and password to use Gmail.
Subscribe to the podcast, or watch the Gmail website for the next installment in the Getting Started series, Completing your Profile.
Podcast: Play in new window | Download