Posts Tagged 'ipad'
By Chuck Tomasi on August 21st, 2010
Solve technical issues faster with GotoAssist Express – Try it free for 30 days
This past week were three main stories for Gmail and related apps. First, a new labs feature allows you to search in to your Google docs. Next, Gmail on the iPad got a nice touch to clear up some confusion, and finally, Google now supports voice and video chat on Linux.
First up, you can give Gmail the ability to reach in to your Google docs by enabling the labs feature called Apps Search. Turn this on the same way you would any other labs feature by clicking the Settings link in the upper right, click the Labs tab, scroll down to the Apps Search section, click Enable, the click Save Changes at the bottom of the screen. Now when you do a search, Gmail will not only list your search results in a familiar conversation index listing, but also include a section at the bottom for documents, spreadsheets, presentations, and other Google docs data that matched your search criteria.
As a side note, I noticed that the labs features are now grouped with the enabled labs at the top and the disabled, or available, labs at the bottom. If you're looking for something new, start scrolling until you get to the Available Labs section to save a bit of time.
Next, Gmail made a slight adjustment to the user interface on the iPad to clear up some confusion that I, and some of you, have experienced. As you may have noticed, when you select messages on the left, a panel appears at the bottom left with buttons for Archive, Delete, and other options. For dealing with individual messages, the buttons on the upper right were used. Thankfully, Google was able to take advantage of CSS3 technology and remove the extra set of buttons on the left. Now when you select multiple messages, they are stacked in the window on the right. The buttons on the lower left never appear and you only need to use the right side buttons for archiving, deleting, and other actions. Perhaps they'll hear my other request make it easier to apply labels instead of scrolling and scrolling and scrolling.
Finally, Ubuntu and other Debian-based Linux users can now use voice and video chat. Just visit gmail.com/videochat to download the plugin. Google doesn't often neglect the Linux community, but they took almost two years to implement this feature. They promise to have RPM support soon.
Podcast: Play in new window | Download
By Chuck Tomasi on April 4th, 2010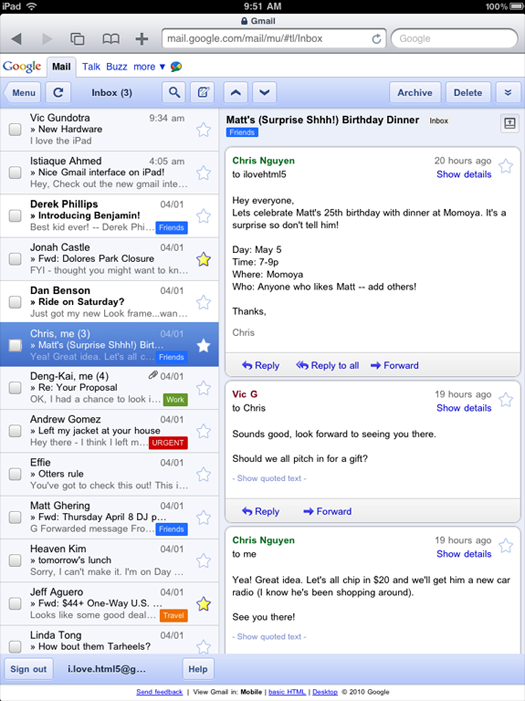 Although I don't have an iPad (yet), I find the Gmail mobile app for the Apple iPad compelling. This two column interface resembles the preview pane of Microsoft Outlook (which I use all the time.) It makes me wonder if the standard web browser interface will have this option soon or if it is better suited for the larger touchscreen UI only.
Tags: apple, ipad, Mobile, touchscreen