Posts Tagged 'chat'
By Chuck Tomasi on August 21st, 2010
Solve technical issues faster with GotoAssist Express – Try it free for 30 days
This past week were three main stories for Gmail and related apps. First, a new labs feature allows you to search in to your Google docs. Next, Gmail on the iPad got a nice touch to clear up some confusion, and finally, Google now supports voice and video chat on Linux.
First up, you can give Gmail the ability to reach in to your Google docs by enabling the labs feature called Apps Search. Turn this on the same way you would any other labs feature by clicking the Settings link in the upper right, click the Labs tab, scroll down to the Apps Search section, click Enable, the click Save Changes at the bottom of the screen. Now when you do a search, Gmail will not only list your search results in a familiar conversation index listing, but also include a section at the bottom for documents, spreadsheets, presentations, and other Google docs data that matched your search criteria.
As a side note, I noticed that the labs features are now grouped with the enabled labs at the top and the disabled, or available, labs at the bottom. If you're looking for something new, start scrolling until you get to the Available Labs section to save a bit of time.
Next, Gmail made a slight adjustment to the user interface on the iPad to clear up some confusion that I, and some of you, have experienced. As you may have noticed, when you select messages on the left, a panel appears at the bottom left with buttons for Archive, Delete, and other options. For dealing with individual messages, the buttons on the upper right were used. Thankfully, Google was able to take advantage of CSS3 technology and remove the extra set of buttons on the left. Now when you select multiple messages, they are stacked in the window on the right. The buttons on the lower left never appear and you only need to use the right side buttons for archiving, deleting, and other actions. Perhaps they'll hear my other request make it easier to apply labels instead of scrolling and scrolling and scrolling.
Finally, Ubuntu and other Debian-based Linux users can now use voice and video chat. Just visit gmail.com/videochat to download the plugin. Google doesn't often neglect the Linux community, but they took almost two years to implement this feature. They promise to have RPM support soon.
Podcast: Play in new window | Download
By Chuck Tomasi on January 2nd, 2010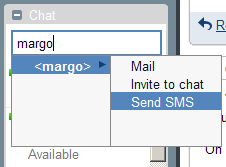 This episode is sponsored by GotoAssist Express. Try it free for 30 days.
Google offers a number of ways to send and receive text messages for free without using a mobile phone. This is part 1 of a 3 part series on using text messages, or SMS, with Gmail and other Google applications.
Let's begin with Gmail. Texting from Gmail chat is fairly easy. To do this you will need to enable the Labs feature "Text (SMS) in Chat". You can find this in the Labs tab in the Settings page.
Once the labs feature is setup, begin by opening the chat window and signing in to chat. Type the name or phone number of the person you want to send a text message to in the "Search, add, or invite" box. If this person is not already in your contacts list, don't worry. As you type, a window appears under your text with options "Mail, Invite to Chat, and SMS". If you entered a phone number, only the SMS option will be displayed. Finish entering the text then choose the SMS option and a window appears. In the window, finish filling out the contact information. If you entered a name, provide the phone number, if you entered a phone number then provide a name and click Save. This information will be added to your contacts list for easier reference later.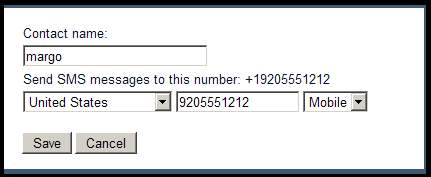 When Gmail gets done saving the contact information, a window appears at the bottom of the screen – much like a chat window. Type you text message and send it with the Enter key. If the other person responds, you will receive a response in the same window. Gmail makes it as easy to send text messages as it is to chat – and best of all it's free.
Another way to send text messages from Gmail is to use the SMS in Chat gadget. This is also a labs feature that works very similar to the Text (SMS) in Chat feature. I don't recommend using this labs feature. First, it requires the Text (SMS) in Chat feature to be turned on – so why not use that instead? Second, at the time this article was written, the labs feature seems to have a bug in that it prompts you for contact information each time instead of reusing previous entries from the contact database. This creates duplicate entries in the contact database each time you use it.
Keep in mind that although the text messaging using Google may be free to you, it may not be free to the person receiving or sending replies. Currently, text messages from chat only work with US phones.
Listener John writes in and asks "Is there a way to set a primary email for a contact that has multiple addresses?"
While I cannot find a definitive rule or setting to make any particular email address the primary one, my own experience has shown me that mutliple email addresses seem to be ordered by the frequency they are used. The more you use a specific address for a particular person, the more likely that address will appear at the top of the list. If you've got information to the contrary, let me know on the blog or drop me an email.
Podcast: Play in new window | Download