By Chuck Tomasi on May 23rd, 2010
Contextual Apps and Calendar Update
This past week Microsoft announced several additions to Hotmail in order to better compete with Gmail. Â No, I am not changing this from the Gmail Podcast to the Hotmail Podcast. We Gmail users snickered because many of these features like conversation view, and one-click filtering have been in Gmail for years . Within hours of the Microsoft announcement, Gmail upped the ante by announcing an API, or application programming interface, to allow developers to create contextual gadgets.
Contextual gadgets allow you to interact with traditional non-email data without leaving your mail application. You may already be using contextual gadgets and not even realize it. Examples include YouTube, photo, and document previews. Watching a video within email is not something email was originally designed to do so Google thought it would be a great idea to look for YouTube (and similar links) and provide the information right in the message so you don't have to click and switch to another browser window or application, then come back to manage your email.
Now these features is available to developers outside the Google Domain to extend the functionality of Gmail. Several already exist such as AwayFind that allows you to mark certain contacts or messages as urgent and flag the recipient can be alerted via phone, SMS, or IM. Contextual apps are available for those who host their domain with Google. For example, I can add AwayFind as an available feature to those with chuckchat.com email addresses because the chuckchat.com mail is hosted on Google.
The only information I could find at this time regarding the installation and activation of these apps was
an article on CNet.com
that Google Apps Administrators can install the contextual gadgets for their users.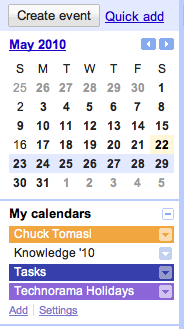 When I logged in and went to Manage my chuckchat.com domain, a button appeared on the Dashboard near the top just below the menu bar that said "Continue with setup guide". When I clicked on it, I was brought to the Google Apps Admin Help screen that has a link at the top to the Google Apps Marketplace. If you want to just look around, use google.com/enterprise/marketplace.
I went ahead and installed and configured AwayFind so I can be alerted via SMS to my Google Voice number when important messages come to a specific domain. It only took a few minutes and is nice to have for certain cases. I can manage the contextual app from the main control panel of the dashboard.
While doing research for this article I noticed that labs are now available in Gmail for hosted domains while themes are not yet an option.
One final thing, Google Calendar got a minor update this past week for the first time in a while. The changes may appear subtle at first. They include some tweaks to the fonts and colors to make them a bit sharper. If you use tasks in Gmail and Calendar, take note that the Tasks link in Calendar has been removed and replaced with a listing under My Calendars. When you turn this pseudo calendar on, the tasks will appear on the right hand side. Managing the tasks in Google Calendar is the same as in Gmail. See the Gmail Podcast archives for more information on tasks.
Podcast: Play in new window | Download
Tags: calendar, contextual, Labs