By Chuck Tomasi on April 11th, 2010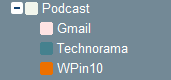 This episode is sponsored by Citrix GotoAssist Express. Try it free for 30 days.
For years, Gmail has been touting that labels are more flexible and powerful than folders for organizing your messages. This is because any given message can only be filed in one folder at a time, but in Gmail, you can apply more than one label. The complaint I've heard most frequently is that labels lack the ability to be nested like folders. Good news all you organized people – Gmail now has a labs feature called Nested Labels.
You enable nested labels like any other labs feature by first clicking the Settings link in the upper right corner, click the Labs tab, scroll down until you find Nested Labels, click Enable next to it, scroll to the bottom and click Save Changes.
To create a nested label, you first need to create the top level label first if it doesn't already exist. For my example, I'll create a label called "Podcast". Again, I go to Settings, then click the Labels tab, and scroll down to the labels section. I'll type the label "Podcast" in the text box that reads "Create a new label", then click the Create button. To create a sub-label, I use the name of the existing label, a forward slash, then the name of the sub-label. For this case, I type Podcast/Gmail, then click Create. Your nested label will immediately show up on the left. Like normal labels, you can add colors as you like. You can nest labels as many levels deep as you like. One warning, you cannot create the a new label and a sub-label at the same time. If you try to create a new label "Podcast/Technorama" before creating the Podcast label, you'll end up with a top level label called Podcast/Technorama rather than a Podcast label with a Technorama label under it.


If you setup nested labels then turn the labs feature off, it's nice to know that you don't lose any information on the conversations you labeled. The label structure is represented literally as you typed it when you created the nested labels. For example the Gmail label under Podcasts, is displayed on the left as Podcast/Gmail. Right below it is Podcast/Technorama..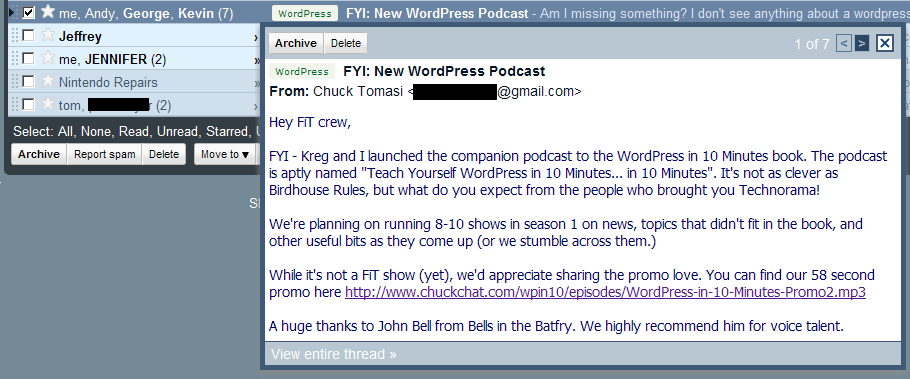 Another new labs feature is called Message Sneak Peak. When you enable this labs feature you can right click on any conversation on the index to see a preview of the conversation without leaving the conversation index. If the conversation has more than one message in it, you can use the arrow keys in the upper right corner to scroll through the various messages. If you have shortcut keys enabled, you can use the 'h' key to bring up the sneak peek window also. Use 'j' and 'k' to move to the next and previous message and Esc to put the sneak peek window away.
Update: 12-April-2010 – I am REALLY enjoying using nested labels (despite my better judgement to keep things flat). While I had to tweak some filters to apply the new labels, migrating conversations from an old label to a new label is SO simple. Just click the label on the left, click All to select all the messages (if there are more than fit on a single page of display, use the link to select all of them.) Use the "Move To" feature to apply the new label and remove the old one. When I got that done, I went to Settings> Labels to remove any unwanted labels (where it displays 0 Conversations.) Very cool.
Podcast: Play in new window | Download
Tags: conversations, labels, preview