By Chuck Tomasi on February 27th, 2010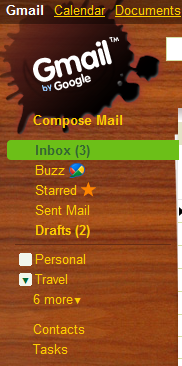 This show is sponsored by Citrix GotoAssist Express. Try it free for 30 days.
This episode is another in our getting started series with Gmail. This time I'll cover a way to change the appearance of your Gmail interface without changing the functionality. Gmail calls these themes; other systems might call this "skinning" because you're putting a new skin or motif to change the application's cosmetics while leaving the underlying system the same.
Changing your theme in Gmail is very simple and quite fun. Begin by logging in to your Gmail account then clicking on the Settings link in the upper right corner. Next, click the Themes tab on the settings window. When you click on one of the themes, Gmail will instantly change the look of your interface. There is no Save Changes button to click on this page. Try as many as you like or stick with the Classic look. You can even choose your own colors.
Be selective with your theme and inspect all the various things on the conversation index and compose screens. You may find some things don't contrast well. For example the light graphics at the top of the screen on the Phatasea theme makes it difficult to read the text "Show Search Options" and "Create a filter".
Some themes actually change throughout the day. You may be prompted to enter your location when you pick one of the themes. If you are very mobile, you can change your location at the bottom of the themes settings. These dynamic themes change to show the proper sunrise, sunset, and even weather conditions. Yes, I've seen it snow in Gmail!
If you select one of these themes, you'll see a drop-down menu appear asking for your country or region. Select the country you want, and then enter a city in the field provided. If you don't enter a city, or enter an invalid one, Gmail will set your location to the capital city of the country you selected. When you're done, click Save.
One important footnote, Gmail Themes aren't yet compatible with all browsers. Themes are only available in Internet Explorer 7.0+, Firefox 2.0+ or Safari 3.0+, and Google Chrome. If you're using an older version of one of these browsers, you may run in to problems or not see the themes tab at all. Also, themes are not available if you host your own domain on Gmail. The hosting and themes have been out for quite some time, and I haven't quite figured out why Google hasn't added themes to this set of Gmail users yet. You can find more information about hosting your own domain on Gmail in the Gmail Podcast archives on the website.
Quick update – Google has promoted six labs features to full Gmail features and removed five of them. Labs features are features in Gmail that allow you try out cool new things that Google is considering adding to Gmail. They may have errors and they may change, but most are useful to some degree. Again, more information on Labs can be found in the Gmail Podcast archives.
Podcast: Play in new window | Download