By Chuck Tomasi on February 13th, 2010

Sponsored by GotoAssist Express – Try it FREE for 30 days.
This past week Google introduced a new feature called Buzz. Buzz is Google's cannonball in to the social media space. It features some of the benefits of Twitter like quick messaging, some Facebook like media sharing, and some from other social networks.
Buzz is very appropriately named when you consider all the press generated following its release. Unlike many Google products in the past that have typically been released gradually or as an opt-in feature like labs, Buzz was automatically released to millions of Gmail users on Tuesday Feburary 9, 2010.
While it is easy to start using it, many pundits are saying that Google forgot to think through privacy aspect of the product. Unlike some social media sites that start you with no information and connections, Buzz uses your Gmail contacts as a base for who you are following and who is following you. Initially, Buzz allowed others to see who was following you, who you were following, and some parts of your profile that you may not have intended to share.
To Google's credit, they reacted quickly. Within a couple days (and lots of feedback) they added some options to allow you to control the visibility of your profile and follower information. If you're the type of person who is concerned about privacy, you might want to wait before using Buzz. On the other hand, if you're like me, and have been on the Internet for 25 years, then the horses left the barn a long time ago. With that in mind, there is no way to actually "turn off" Buzz in Gmail. It is integrated right in to Gmail which Google, at least, touts as an asset.
Here's a step-by-step approach to get started with Buzz.
The first time you sign in to your Gmail account after Buzz has been enabled, you are taken to a screen that advertises Buzz is available with a message "New! Google Buzz in Gmail". At the bottom of the screen is a blue button reading "Sweet! Check out Buzz." When you click on the button, you're taken to the Gmail interface only instead of your inbox, you are brought to the Buzz tab just under the Inbox.
Again, if you don't feel comfortable with the maturity of the product yet, don't click the blue button. Instead use the link "Nah, go to my inbox." If you clicked the blue button by mistake, don't worry. Just use the Inbox link to get back to your friendly mail.
The place where your messages usually are located is replaced with several items. First, there's a text box that works much like Twitter, Facebook, or any other s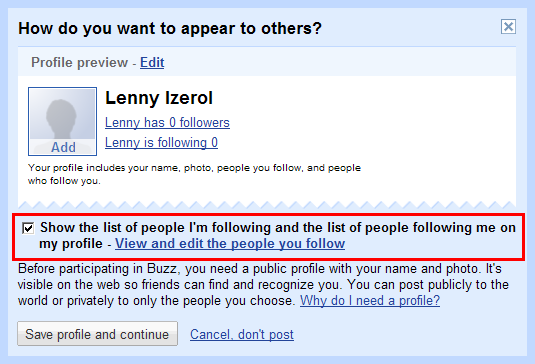 ocial network. This is where you place the message you want to share. If you try to post a message there right away, Google will prompt you to create your profile (see Figure 1). Pay particular attention to the checkbox that reads "Show the list of people I'm following and the list of people following me on my profile". This is one of the enhancements Google made two days after Buzz launched to help protect you and your follower's privacy. If you've already setup a Google Profile, you can find this setting and more near your photo.
Just above the text box are links. Clicking your name displays how the public views your profile. The Edit link lets you set your profile and share other items from other social networks like Flickr, your personal blog, and other sites. Below the message box are some helpful instructions to get you connected to other people and get started posting your Buzz messages. Once you start following people this area lists their updates in Buzz, and other social networks.
When you want to post something to Buzz, just type in a text message. You can control who sees the message by using the dropdown list next to the Post button below the text area (see Figure 2).


If someone comments on your Buzz, the response shows up in your Gmail inbox. You can reply to the Buzz message right from within Gmail like a regular email message. If you don't want the responses showing up in your inbox, you can create a filter that operates on the label "buzz" to automatically archive or delete them. Listen to the Gmail Podcast on filters and labels for more information how to manage your messages.
Keep in mind, Buzz is still in its infancy despite being deployed to millions of people on its initial release. Things are likely to change rapidly over the next few weeks and I suspect I'll need to redo this episode.
From what I've seen so far, Buzz is as a good social network it just has a little maturing to do. If you're concerned about privacy, wait a while and stay tuned to the Gmail Podcast and blog for continued updates.
That's all for this time. Comments, suggestions, or questions can be sent to gpodcast@gmail.com or check the website for full information and archives of all previous Gmail tips at chuckchat.com/gmail. And don't forget about the short listener survey on the website. I really appreciate that so many of you have already done it and encourage more to do go and fill it out. It helps me understand who is listening and what I can do to provide you more valuable information on the Gmail Podcast.For more great information between the podcasts, follow me on twitter at gmailpodcast. I have no affiliation with Google other than as a satisfied Gmail user. Thanks for listening, and don't forget to write.
Update: 14-Feb-2010 17:12 – There IS a way to turn off Buzz. There's a tiny link in the footer messages below the conversation index that says "Turn off buzz". It removes your buzz tab. Your profile and any existing Buzz conversations remain intact in the event you want to turn it on again in the future.
Podcast: Play in new window | Download