By Chuck Tomasi on December 20th, 2009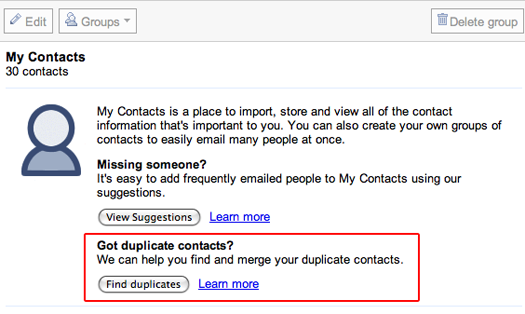 This episode is sponsored by GotoAssist Express. Try it free for 30 days.
Gmail has added a feature to the contacts screen to allow you quickly find all duplicate contacts in your contacts database. Until I hit this button, I thought I was pretty good about managing my contact, but I found that out of more than 1600 contacts, I had 163 with more than one entry.
You'll find the new magic button by clicking on the Contacts link on the left, then in the main window labeled "My Contacts", there are two buttons labeled "View Suggestions" and "Find duplicates". After you click the Find Duplicates button, a list of all contacts with more than one email address is presented. Review the list and uncheck any contacts you want to leave alone. Click the "details" link next to each contact to see which addresses Gmail has found for this person, or use the "expand" link at the top of the list to show the details for all duplicate records. Use the collapse link to shrink them back down to a list of names.
After you have reviewed the list, click the Merge button to combine the multiple email addresses in to one contact. Verify the operation worked as expected by looking up your contacts and noting that there are now multiple email addresses for that person. Choosing a name when you compose a message is the same as if the contact was not merged. Start typing the name and all available email addresses are displayed.
If you've been considering using Gmail as your central contacts database, this feature makes it easy to keep everything together and then sync it with your phone or other portable device. To find out more about syncing your contacts, search for the term sync on the Gmail blog at chuckchat.com.
Here's today's quick tip – Use the question mark key (?) to see all the shortcut keys Gmail has to offer.
Podcast: Play in new window | Download