By Chuck Tomasi on December 25th, 2009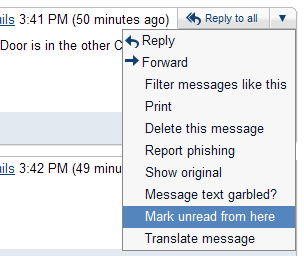 This episode is sponsored by GotoAssist. Try it free for 30 days.
If you belong to one or more mail lists that have lots of traffic, I recommend the labs feature "Mark Unread From Here". This handy labs feature allows you to mark messages from a certain point in the conversation as unread.
Here's how a typical conversation goes with me. I receive one or more messages, open the conversation, read them, and then archive the information. Later, I find the conversation has re-appeared in my message index with several new messages. If I open the conversation again, it marks all of the new entries as read, however I might not have time to read all of them. I may only read two or three – because I typically get distracted with embedded links to read, watch, or listen to something.
If I go back to the index, Gmail is going to mark all the messages in that conversation as read, when in fact, I may not have read them all. If I mark the conversation as unread, it marks all messages unread. That's where the labs feature "Mark Unread From Here" comes in handy.
Enable this feature in the standard way by going to the Labs tab under Settings. Mark Unread From Here is near the bottom. Click the enable radio button and then choose Save Changes at the bottom of the screen.
Now when you open a conversation with many unread messages, use the Reply (or Reply To All) button in the upper right corner of any particular message and choose "Mark Unread From Here". The remaining messages are marked unread, while the previous ones are marked as read. Alternatively, you can use the Expand All link, just above the sponsored links on the right, to show all the messages that may have already been read and collapsed. Using the Mark Unread from Here feature acts like a bookmark for a specific conversation, allowing you to come back later and finish reading the conversation right where you left off.
One final note, Google engineers are reporting that Gmail mobile now loads 2-3X faster than it did just a few months ago. For iPhone and Android users, the app is up and running in less than 3 seconds.
Podcast: Play in new window | Download